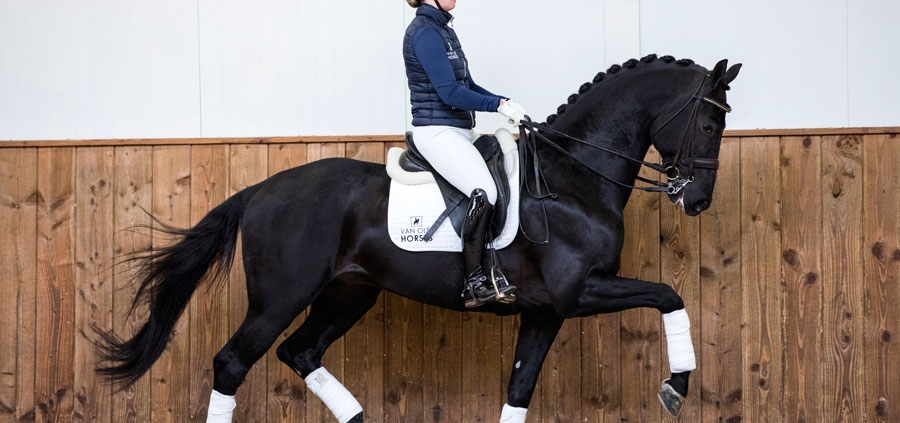 The seven-year NRPS approved Crosby (Chippendale x Flemmingh) was the top seller at the Van Olst Sales 2018 with 270,000 euros. Bred by Th. Deenen from Heijen, the performance topper at the NRPS in 2015 and fourth in the Pavo Cup for six-year-olds last year, will stay in the Netherlands for that amount.
Gertjan van Olst is satisfied with the auction, which he organized for the fourth time this year. "This edition was again successful: a lot of interest, an international buyer public and the bidding was quick."."
270.000 euros
Never before has so much been deposited for the auction winner in Den Hout. In 2015, 73,000 euros were paid for Halegro, in 2016, 172,000 euros for Jefferson, and in 2017, the NRPS approved Fireball was the most expensive with 155,000 euros. Now 270,000 euros for the ZZ-Zwaar classified Crosby, the number 1 of the auction.
95,000 euros for a three-year-old gelding
A substantial sum was also deposited for a three-year-old gelding from the first volume of Glamourdale. This King Kong (Glamourdale x Negro), inbred to Negro, goes to Australia for 95,000 euros. The five-year NRPS stallion Nagano (Negro x Lord Leatherdale) also goes there. He was repulsed for 75,000 euros.
50,000 euros was offered by Danes for the three-year-old stallion Primo-V (Nespresso x Lord Of Loxley), who remained at the NRPS. The three-year-old gelding Kojak PB (Glamourdale x Jazz) goes to Chile for 38,000 euros.
KWPN stallion Inverness
The KWPN-approved Inverness (by Everdale) by Gertjan van Olst and Robert Lickley, which by the way was never available with fresh semen, also belonged to the collection. This stallion registered with the KWPN with 81.5 points was withdrawn and is therefore not sold.
Source: Paardenkrant-Horses.nl
https://www.vanolstsales.com/wp-content/uploads/2018/12/Crosby_Van_Olst_Web.jpg
600
900
vanolst
https://www.vanolstsales.com/wp-content/uploads/2019/03/Logo-Van-Olst-Sales-Web.png
vanolst
2018-03-31 09:36:01
2019-03-13 23:25:38
270.000 euro for NRPS-stallion Crosby at Van Olst auction